Archive for the 'Website Builder' Category
Your Name Here have launched a new and improved Site Builder. It is the easiest way to build a website, with no technical knowledge required.
It is a simple step by step process which will leave you with a professional looking and responsive website that works on all devices.
Once you have your Site Builder account set up you will be able to access it by clicking on the Site Builder icon in your control panel.
You will first by give the following page where you can browse through all the templates on offer before choosing which one is right for your website: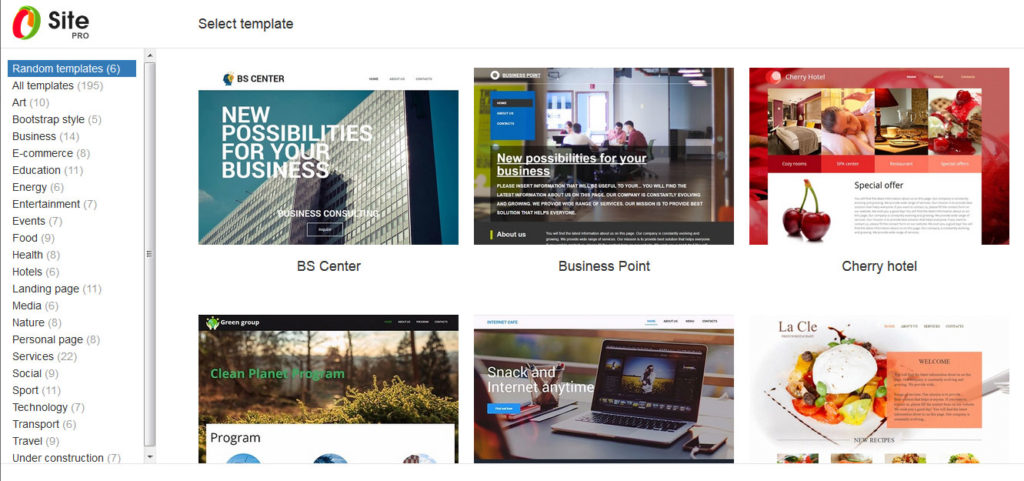 You can highlight any template and preview how it looks. Once you are happy with your choice, click on select and this will load your website design.
Your admin panel will then be loaded, showing you all your design options. There is a 'Steps to Do' panel which will also load advising what you need to do next: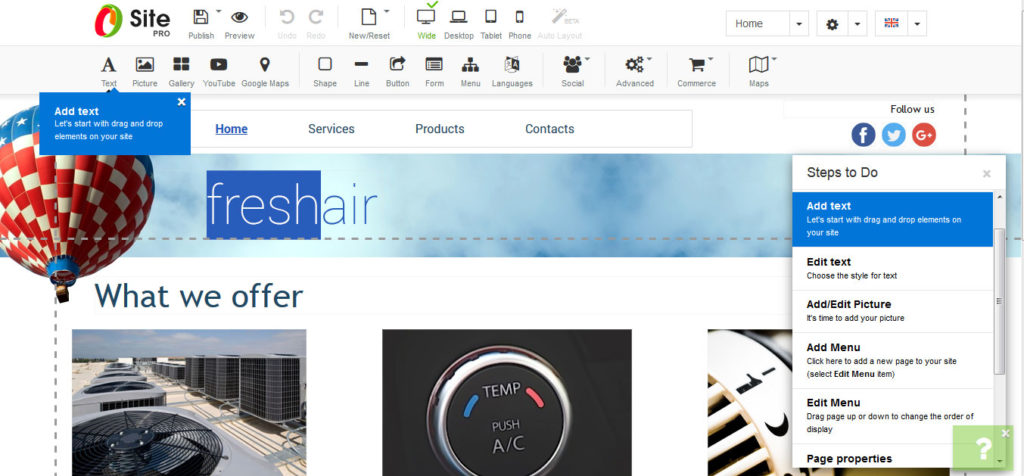 Text is added by a simple 'drag and drop' as are images, so they can be positioned anywhere you like. Additional shapes and lines can be added as and where you wish. The majority of templates will come with a menu, but you can easily add one if not by the simple drag and drop method.
You site can be further customised using the Page Properties tool: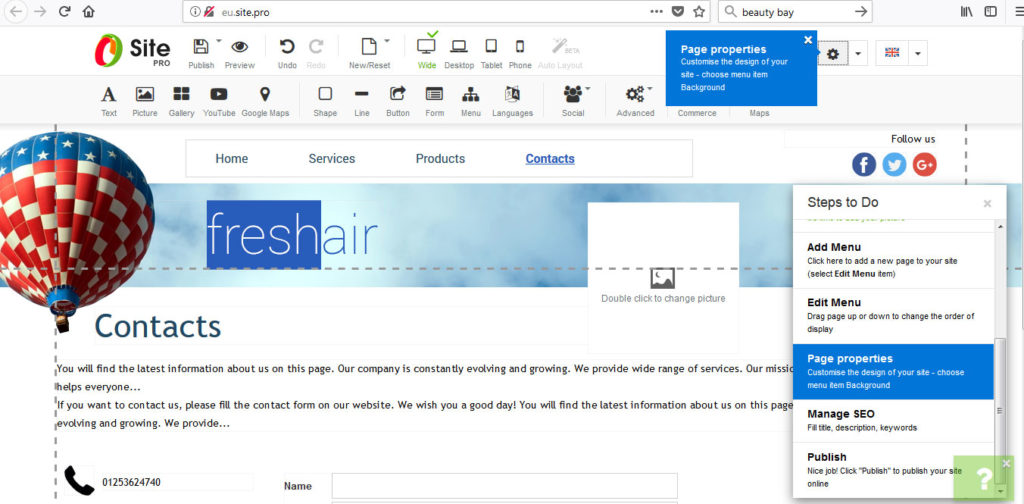 The background can be edited on one or all of the pages to add a background colour or image, along with length and width of your website: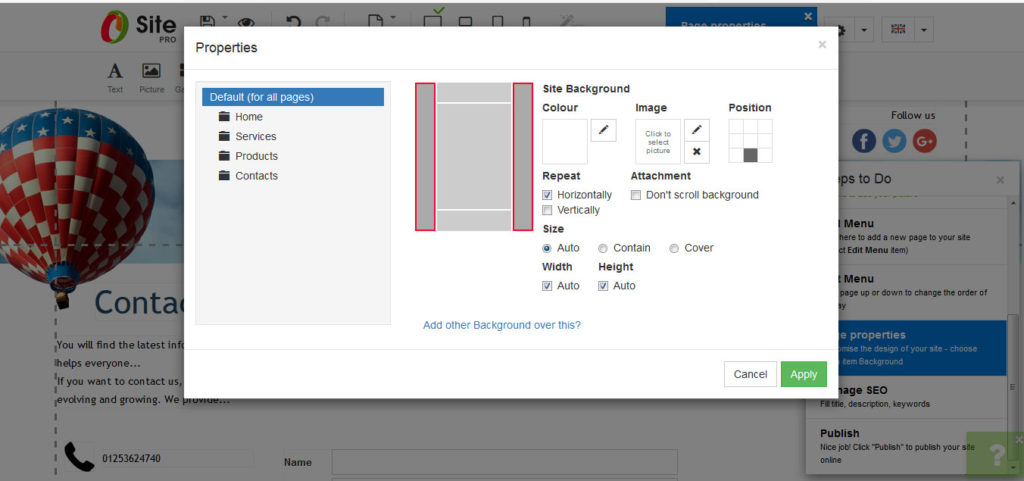 Additional services can be added to make your website dynamic, including social media links and e-commerce programs for online selling: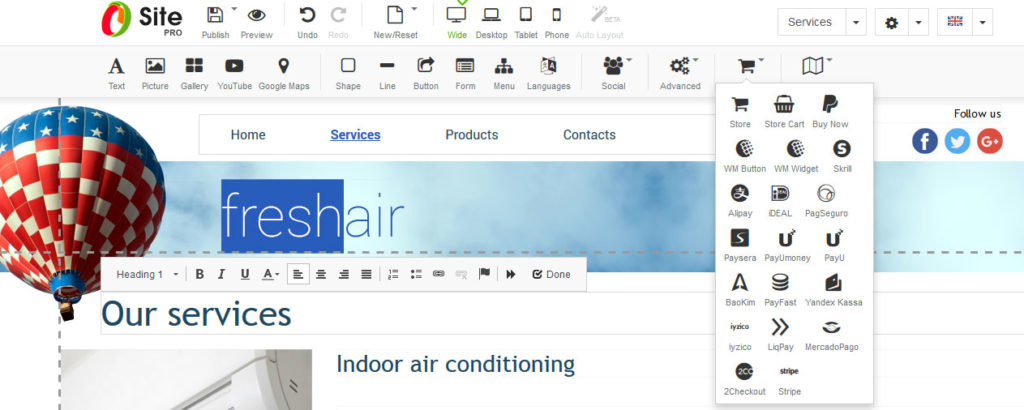 Any changes you make to your site are automatically saved every time, so you can come back to make additions many times before you have your site completed.
Once you are happy with your design, you click on 'Publish' to make it live:

You can go back and make further changes to your website at any time. Any changes will be live on the internet straight away.
Since we launched our new Web Presence Builder several months ago, it has proven to be a big hit.
We will be keeping the price of this offer at £29.95. When you consider the price includes the registration of a domain name, 250MB of web space and the easy to use site building software, it really is an offer not to be missed.
The Site Builder package is perfect for anybody who requires an online presence, but does not have any technical knowledge or experience with Web Design:
For more details and instructions on how to order please got to:
http://www.your-name-here.co.uk/site-builder.html
An easy and quick way for small businesses to create professional looking websites.
If you would like your own website but don't know how to do it, our new Website Builder is just for you.  In just 3 easy steps you can have a fully operational website ready to go.
Firstly choose your web address:

(myownwebsite.co.uk or
myownwebsite.com)
Then we will set up your domain on our server and enable the Website Builder for you.  Just choose the type of business for your site and a template of your new site will automatically be created for you:

You can then replace the template text with your own, add your own images and add extra modules such as a shopping cart, all with a few clicks of a button.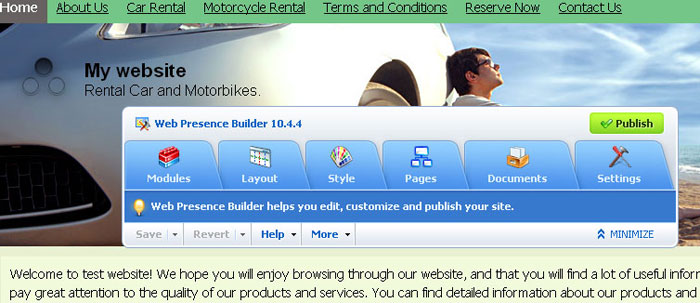 Once you have arranged your layout, added your pages and added your new content, simply click on 'Publish' and your new design will be made live on the Internet.
Any updates or changes can be made to your site – just login to your Web Builder again, make the necessary adjustments and click on publish again. It really is as easy as it sounds!
To try the demo click here.