Posts Tagged 'Security'
It is vitally important to keep your web applications updated to the latest version. Any old versions of software may have security flaws which allow hackers to get in!
A web application is a type of program you install onto your web space, designed to help you perform specific tasks within your website. There are hundreds of web apps which can do all sorts of useful things for your website, and many that can even design your site for you. If you own a smart phone chances are you have installed lots of apps and chances are there is a seemingly constant flow of updates for them. Similarly on your PC, you will be prompted to update your programs whenever there is one available. Below is a couple of update pop ups you may have seen on your computer.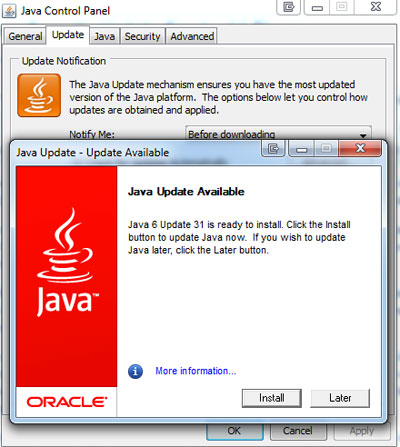 There are several possible reasons why an application is updated. More often than not it is because the designers have added new features to it. Probably the most important reason is for security. New versions often fix security vulnerabilities in older versions of software. If you stick to an old version of software it may be vulnerable to attacks by hackers.
There are many ways a hacker can get into your site, or the server your site is hosted on. To combat this is the many updates and security patches that are made available. So however inconvenient it is, you should ALWAYS update your web apps and programs.
There seems to be a new wave of this particular scam email, usually from the 'Domain name registration center in Shanghai' or the 'Domain name registration organisation of Asia' or similar.
The email will read something like:
—–Original Message—–
> *From:* fiona [mailto:fiona@east-technology.org]
> *Sent:* 08 October 2009 08:34
> *To:* office@your-name-here.co.uk
> *Subject:* Re:Europeanarts-Intellectual property rights (To CEO)
> *Importance:* High
>
> Dear CEO,
>
> We are the domain name registration organization in Asia, which mainly
> deal with international company's in Asia. We have something important
> need to confirm with your company.
>
> On Oct.7,2009, we received an application formally. One company named
> "Baldfiltering company" wanted to register the following domain names:
>
> your-name-here.asia
> your-name-here.cn
> your-name-here.com.cn
> your-name-here.com.hk
> your-name-here.com.tw
> your-name-here.hk
> your-name-here.cn
> your-name-here.tw
>
> and Internet Trademark:Europeanarts
>
> through our entity.
>
> After our initial examination, we found that the keyword and domain
> names applied for registration are as same as your company's name and
> trademark. These days we are dealing with it. If you do not know this
> company, we doubt that they have other aims to buy these domain names.
> Now we have not finished the registration of Baldfiltering company
> yet, in order to deal with this issue better, Please contact us by
> telephone or email as soon as possible.
>
> Best Regards,
>
> Fiona
>
> **Auditing Department **
Do not be taken in by this, as it is nothing more than a misleading and dishonest marketing ploy.
They basically want you to contact them so they can explain the importance of you buying all those domain extensions from them.
If, for any reason you would like to buy the Hong Kong extension of your domain name that's fine, but you should go through a trusted domain registration company.
The article in this link explains what happened when one domain owner replied. Notice the amounts they want to charge towards the bottom of the article. Also the many comments from other domain owners who have received similar emails.