An easy and quick way for small businesses to create professional looking websites.
If you would like your own website but don't know how to do it, our new Website Builder is just for you.  In just 3 easy steps you can have a fully operational website ready to go.
Firstly choose your web address:

(myownwebsite.co.uk or
myownwebsite.com)
Then we will set up your domain on our server and enable the Website Builder for you.  Just choose the type of business for your site and a template of your new site will automatically be created for you:

You can then replace the template text with your own, add your own images and add extra modules such as a shopping cart, all with a few clicks of a button.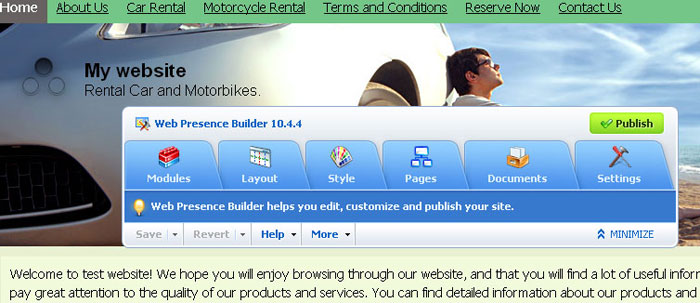 Once you have arranged your layout, added your pages and added your new content, simply click on 'Publish' and your new design will be made live on the Internet.
Any updates or changes can be made to your site – just login to your Web Builder again, make the necessary adjustments and click on publish again. It really is as easy as it sounds!
To try the demo click here.