Posts Tagged 'Web Applications'
Included in Your Name Here's web hosting packages are a number of useful tools, including the Web Application vault.
You can significantly increase your website functionality by using different web apps. Apps installed on a website can perform a number of tasks. If you are an individual, you can, for example, present yourself with a blog or organize an online storage of your media files. Companies can move their business online using the e-commerce or 

CRM web  apps. All these apps are available for installation from the Applications section of the Customer Panel.
Inside the application vault you will see your current applications. Click on 'All available Applications' and this will show all categories for different types of applications you can install.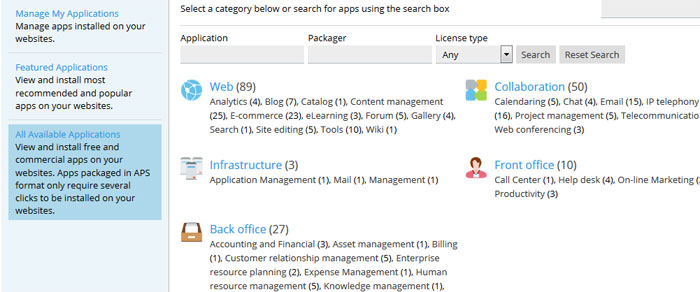 Click on each category to browse available applications, or if you know the name of the app you want to install then type it directly into the search box.

Click on the 'Install' button and the application will be added automatically. You will be asked what username and password you would like and these are the details you use to login to the admin area of your new application.
It is vitally important to keep your web applications updated to the latest version. Any old versions of software may have security flaws which allow hackers to get in!
A web application is a type of program you install onto your web space, designed to help you perform specific tasks within your website. There are hundreds of web apps which can do all sorts of useful things for your website, and many that can even design your site for you. If you own a smart phone chances are you have installed lots of apps and chances are there is a seemingly constant flow of updates for them. Similarly on your PC, you will be prompted to update your programs whenever there is one available. Below is a couple of update pop ups you may have seen on your computer.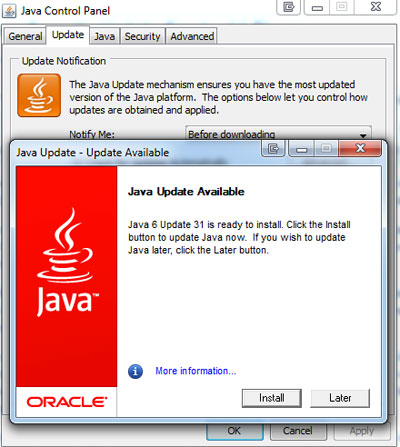 There are several possible reasons why an application is updated. More often than not it is because the designers have added new features to it. Probably the most important reason is for security. New versions often fix security vulnerabilities in older versions of software. If you stick to an old version of software it may be vulnerable to attacks by hackers.
There are many ways a hacker can get into your site, or the server your site is hosted on. To combat this is the many updates and security patches that are made available. So however inconvenient it is, you should ALWAYS update your web apps and programs.